WHAT CAN MULTIPLE BILLING ADDRESSES FOR WOOCOMMERCE DO?
It simply allows one user to checkout on your WooCommerce store with a different Billing Address and save them for later use as well!
Save a Billing Address
Just tick a checkbox and your address will be saved for later use
Use Another Billing Address
Use the dropdown on the checkout page to select a previously saved billing address.
Multiple billing addresses for one user
Ever had a customer that needed you to bill him on a different company? This plugin does the trick!
No more account duplicates!
You now no loger have to create another user account if a clients needs you to bill him to a different company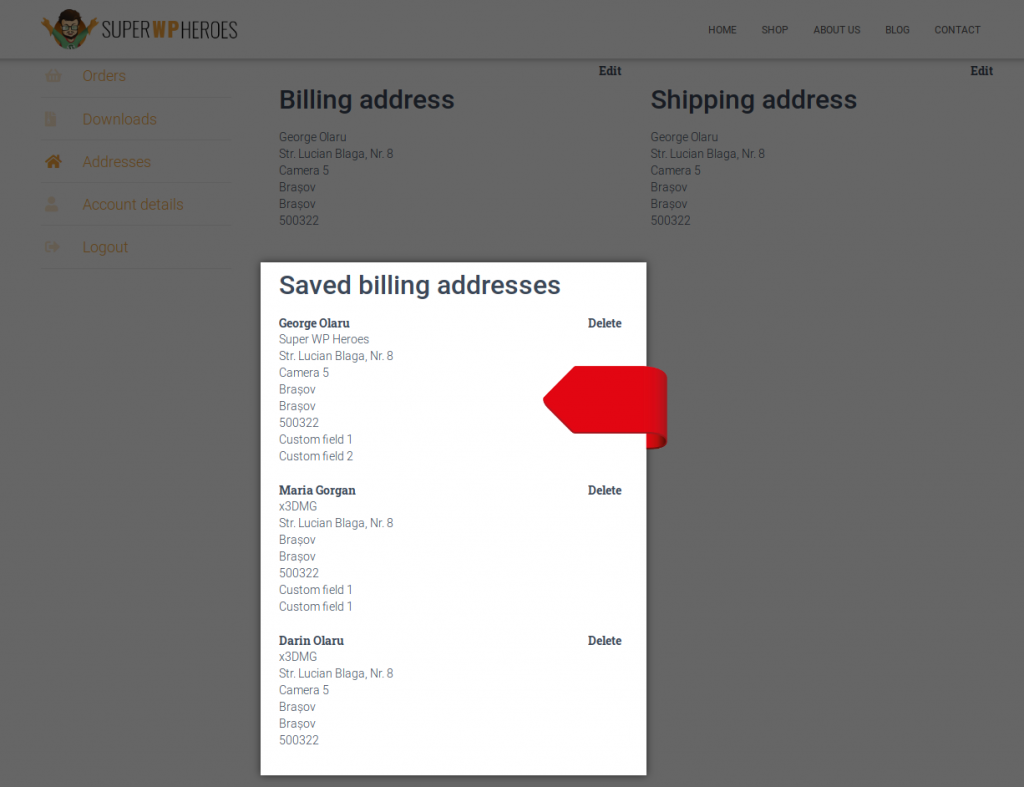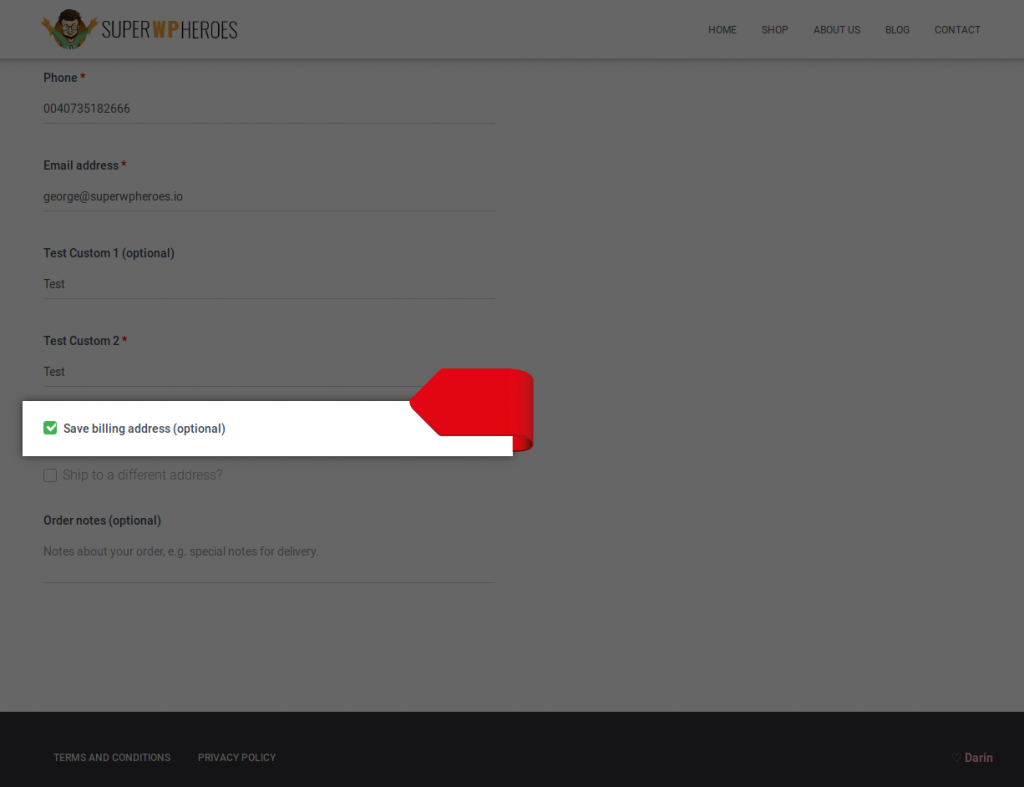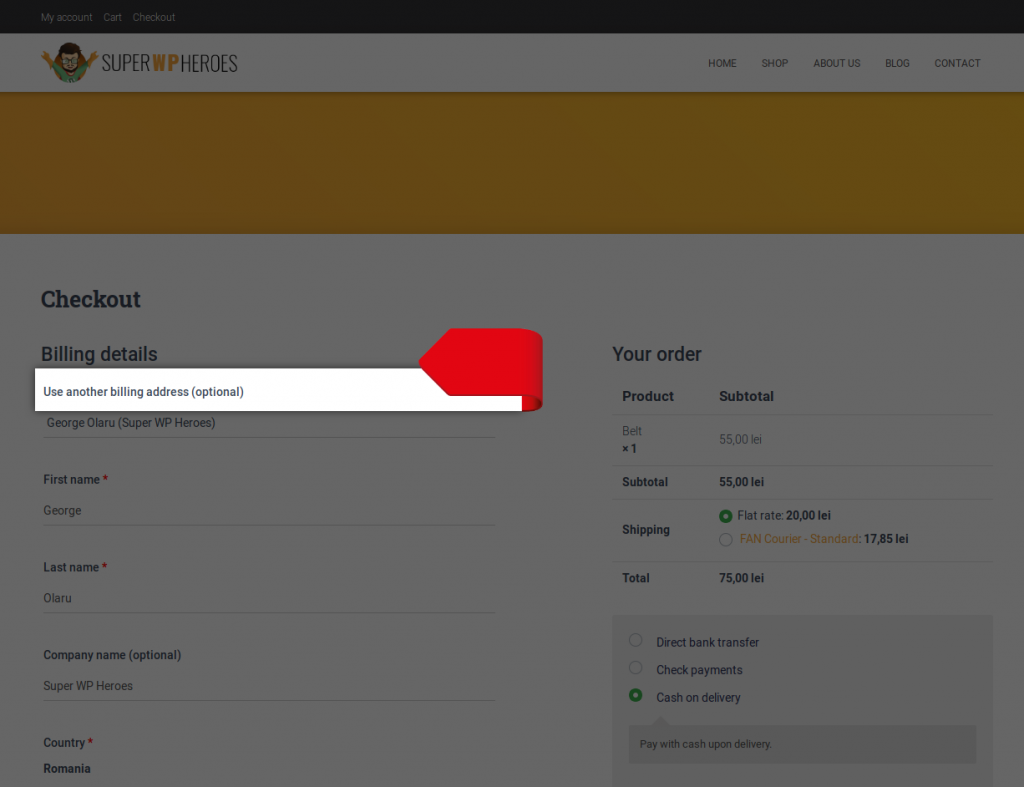 But how does it actually work?
---
LIKE A CHARM!
The plugin will basically add a Save billing address checkbox and a Use another billing address dropdown to your checkout page. Whenever you want to save your billing address for late use, just tick the checkbox and the next time you visit the checkout page you'll be able to select and use a previously saved billing address.
I have some more questions about Multiple BILLING addresses for WooCommerce before I proceed…
---
What is the validity of the license key?
The license key is valid for 1 year, and then it auto renews. You can cancel the subscription (auto renew) process at any time, and even so, you will still have the one year validity purchased.
What are the plugin minimum requirements for Multiple BILLING addresses for WooCommerce to work?
Multiple BILLING addresses for WooCommerce works with the latest WordPress and WooCommerce versions. PHP versions 7+ are also supported.
How do refunds apply?
Refunds apply in any of the following cases:
if you made a payment in error and thus billing details got mixed up and/or VAT (where applicable) was not handled right
during the first 30 days of your purchase, no questions asked
Is the plugin tested with all other plugins on earth?
No. The plugin is tested with WooCommerce and a few standard themes and plugins. We can not guarantee that usage in parallel with other plugins can or can not cause conflicts.
Where can i find my license key?
The license key will be visible on the www.superwpheroes.io/my-account section. You can access that with the logins setup during account creation on our website or checkout
How do updates take place?
Updates are performed directly from your your website's dashboard, as long as you have a valid license key activated
I have a question or a feature request
Please drop us a line at support@superwpheroes.io for pre-sale questions and visit the Support Area if you are an existing client.
Ready to let your clients use multiple billing addresses?
---
DOWNLOAD NOW…
…AT A SPECIAL PRICE!